An overview
We will introduce you to what Swiss Pro Map is all about.
In addition to swisstopo topographic maps, Swiss Pro Map contains Open Street Map, aerial photographs, historical maps and much more.
Everything is available offline as well.
Planning a route
We show how you can use Swiss Pro Map to prepare for your hike.
Swiss Pro Map automatically finds routes along trails, paths and roads. Routes can be edited and shared with others.
The app shows POIs (Points of Interest) such as viewpoints, refreshment facilities, SAC huts, etc.
The SBB offline timetable helps ensure that you never miss the last Postbus while hiking ever again.
Profiles
How to set up the app for different purposes.
Profiles can be selected and switched between via a button in the menu.
Changes are saved automatically. The profiles can be reset.
Guide in Swiss Pro Map
We explain what this guide is and show how to use it.
The guide is a kind of travel companion for routes.
It collects information about a route and calculates the travel time. It can display not only ascents and descents, kilometer markers, or the highest point, but also fountains, fireplaces, inns, points of interest, and a whole host of things that may be of interest on an excursion.
Search and Find
We explain what can be found in Swiss Pro Map.
You can search for field names, place names, coordinates, addresses and postal codes. You can also search for specific things in the vicinity, for example drinking water or restaurants.
Import, Export and Share
Places, routes and tracks can be imported and exported.
Importing would be easy if iOS didn't make it a bit complicated. We show all iPhone and iPad users how to do it.
Handling and setup
View and search useful information
Information such as field names, altitude and coordinates can be displayed continuously in Swiss Pro Map. Coordinates can be copied. Comprehensive search by place name, coordinate, address and POIs and postal codes.
Measuring distances and areas is quite simple.
Set up quick access to frequently used functions.
Information window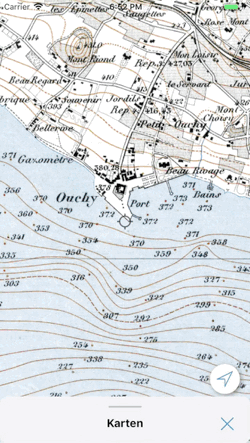 Information is always displayed at the bottom of your screen.
This view can be resized.
Slide the window down if it covers your view on the maps, slide it up to see more information.
Quickly show and hide POIs

In the menu under "Show on map" various object types can be added to the map. POIs and public transport stations can be marked with a tick. They will then be displayed on the map.
To quickly display other POIs of the same type without switching to the menu, tap the corresponding icon in the information window.
Quickly move to another location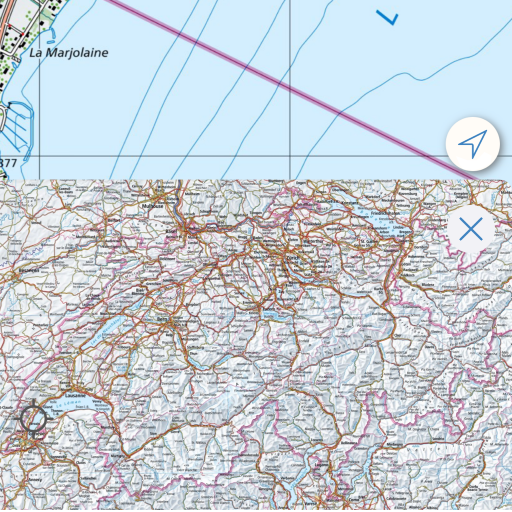 Long press on the screen. Select "Show overview map" in the menu. Or tap the map with three fingers at once. A small map of Switzerland opens.
On the small map of Switzerland, the place you are currently looking at in the center of the screen is marked with a crosshair.
Zooming in and panning of the map is possible.
If you tap on the small map, the map will move to the corresponding location.
While the overview map is active, routes, paths and marked locations are not displayed on the map. This may be handy if you want to see the map without any objects superimposed.